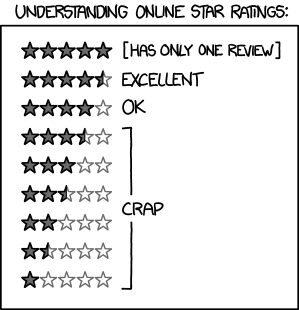 Introduction
Though skilled at critiquing writing, critiquing websites pulls writers out of their comfort zones a bit.  I wrote up this simple scoring guideline to help facilitate critique and discussion. I think it is also useful for writers to review their own site, and also the sites of successful authors to understand how and why they work for their audience.
Review each website assigned to you from your group and give it 1-5 stars for each of the eight categories below.  While the comic at the top does poke fun at web-rankings in general, keep the stars at 1-bad, 2-below average, 3-average, 4-good, 5-excellent.
An explanation of the stars awarded in one-to-three sentences is appreciated in all cases, but mandatory for 1-star or 5-star rankings.  A 1-star ranking where the comment is constructive and actionable is the best. 
Categories:
1. First Impression
This is deeper than is it pretty or not. Does the landing page pull people in? (This can actually be measured using analytics packages as the "bounce rate" on your main page.) At a minimum the writer's name, the fact that they write, their genre, and navigation around the page should all be immediately obvious. Do the colors and style fit the genre or the target audience? Is there a "call to action" drawing the viewer in? Can the viewer, based solely on the first impression, identify the target audience of this site and determine whether or not they are in that group? Is there a tagline?
2. The Goods
Are there books for sale? Are there a few obvious clicks to acquire them? Are there sample chapters, and are they easy to find?  Building a platform and a following is a big part of the process, but don't forget to close the sale. Also, visitors may come to the site for reference purposes such as the titles in the series, etc.
3. Blog
Is there someplace on your website to post current events, news, articles, or what-have-you? Are the articles relevant to your audience? Are the last three posts clear, well written, and contribute to your brand?
4. About Page
There is an excellent article with a pithy title: Why Your Blog's About Page Is Completely Wrong. Read that article to set the expectations here.  Is there a photo of the writer?  Does the page convey what makes the writer tick, what qualifies them to write in the genre they do? Does the page tell the reader what's in it for them to get more engaged with the writer? Is there a press kit or calendar?
5. Contact Page & Social Media Connections
Assuming a visitor wants to become more connected. Can they find Facebook, Twitter, and other social media connections easily? Can they sign up for a mailing list? Is there a fan club? Can they send a message to you directly somehow?
6. Design/Aesthetics
Having explored many of the pages on the site now. What is the overall impression of the fit and finish of the site? Are the colors, graphics, ads, or other elements comfortable or annoying. Is the navigation clean or have there been misclicks? How many times have you hit the back button?
7. Searchable
Do some Google, Yahoo, and Bing searches. Does the site show up prominently?  Is searching enabled within the website to find old articles?
8. Overall
Does the website offer something to the target audience and communicate that offer effectively? What are the strengths/weaknesses of the offer?
Calibrated Scoring & Discussion
Each review will gather 8-40 stars.  Before going into the critique, however, there is one more thing: calibration.  We all know what a great book is, but do we all recognize a great writer's website?  Here's a list of seven that got good recognition.  Look at these and rank 2-3 of your favorites to see how they do.  Finally critique your own.
To keep conversation moving, have folks shout out all their five-star rankings first. This should start the conversation being pretty affirmative.  Then either do discussions across categories  or websites, depending on time and people involved.
Hopefully this is generally useful to critique a writer's website. I welcome your feedback in the comments below.